2015 Workshop on Urban Planning and Management, Kanazawa (Feb. 27th – Mar. 1st, 2015)
Sustainable Residential Areas
As cities strive to be adaptable to population change, climate change and the pressures of modernisation and globalisation, creating sustainable residential areas is key to providing liveable environments for inhabitants.  Sustainable residential areas provide housing for happy and healthy residents, prosperous social and cultural environments, and ensure a productive and motivated workforce for local economies.  In addition, as inhabitants become more diverse and hold their planners accountable for their living environments, their participation in planning is an important topic.  This year's workshop will focus on the aspects of urban planning that create sustainable living areas for city residents over the long term, and also that encourage and accommodate the participation of residents in the urban planning of their cities.
Information
Dates:               Workshop and Welcome Dinner – Friday February 27th 2015
                        Workshop and Dinner – Saturday February 28th 2015
                        Kanazawa City Excursion – Sunday March 1st 2015
Location:           Kanazawa University Satellite Plaza, Kanazawa City, Ishikawa, Japan
                        http://www.adm.kanazawa-u.ac.jp/ad_koho/satellite/
A student workshop was held the second day.  This year, the workshop was part of the review process for paper submissions to a special workshop issue of the International Review on Spatial Planning and Sustainable Development journal, 2015.  Authors received feedback on their presentations and papers were peer-reviewed by Professors at participating universities.

Chairman
Prof. Zhenjiang SHEN, Kanazawa University
Prof. Mitsuhiko Kawakami, Kanazawa University  
Prof. Guangwei HUANG, Sophia University
Program Committee
Mr Yuanyi ZHANG, Kanazawa University
Mr. Zhuo LIU, Kanazawa University
Ms. Tracey TAYLOR, Kanazawa University 
Mr. Kyohei HONDA, Kanazawa University
Contact
Ms. Tracey TAYLOR,
E-Mail: trace.a.taylor@gmail.com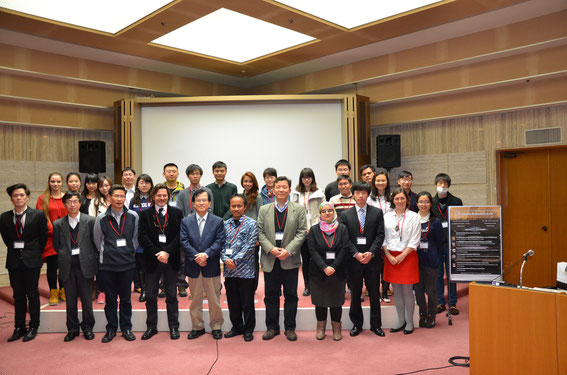 Workshop Program
February 27th 2015 Conference
Time

Program

9:00

Gather

9:30

Opening Speech: Prof. Kawakami, Kanazawa University

9:40 -10:00

Keynote Speakers

Prospect of Vertical Greening for Urban Rehabilitation in Taipei

Prof. Kuang-Hui Peng, National Taipei University of Technology

10:05 – 10:25

Policy Review on the Provision and Design of Urban Green Open Space through a Community Participation Approach

Prof. Respati Wikantiyoso, Merdeka Malang University

10:30 – 10:55

Guest

 Presenters

Study of Building Arrangement Scenarios for Improved Visibility and Climatic Comfort: Case of Abu Dhabi 2030 Master Plan

Dr. Rim Meziani, Abu Dhabi University

11:00 – 11:25

Integrated Neighbourhood Network on a Case Study of a Condominium Community: Nimmanhaemin District, Chiang Mai, Thailand

Chiranthanin Kitika, Kyoto Institute of Technology

11:30 – 12:25

Lunch Break

12:30 – 12:50

Guest

Presenters

Building Retrofit Practises for a Sustainable Development in Dense Urban Areas: Abu Dhabi Case Study

Dr. Paolo Caratelli, Abu Dhabi University

12:55 – 13:15

Moving Object Detection and Utility Verification for Traffic Survey by Using OpenCV

Mr. Feiyu Hu, Nihonkai Consultant Co.,LTD.

13:20 – 13:40

Vernacular Urban Imprints and Sustainable Architectural Endeavours; An Assessment of Abu Dhabi's Modern Building Stock by Dr. Mohamed El Amrousi

Presenter: Dr. Paolo Caratelli, Abu Dhabi University

13:45 – 14:05

Keynote Speakers

An Analysis of Transit Oriented Development Characteristics on Taipei Mass Rapid Transit Usage

Prof. Brian Pai, National Chengchi University

14:10 – 14:30

A Brief Analysis on the Impact of Household Photovoltaic Electricity Generation on Urban Form

Prof. Jian Gian Ying, Gifu University

14:35 ~

Afternoon Tea

The afternoon is free from 15:00 to be used at your leisure

19:00 ~21:00

Welcome Dinner

Please meet by 18:45 for dinner.
February 28th, 2015 Conference
Time

Program

8:30

Gather

Academic Lecture – Keynote Speaker

9:00 – 9:55

Research Method Development

Ms. Suzana Dragicevic, Simon Fraser University

Student's Research Report

10:00 – 10:20

Overview: Protection and Regeneration of Traditional Buildings Based on BIM – A Case Study of Qing Dynasty Tea House in Guifeng Village

Ms. Suling Bai, Fu Zhou University

10:25 – 10:45

School District Policy Implications in Central Beijing: Inferences from Fine-scale Mapping of De jure Catchment Area of Primary Schools in Xicheng District

Ms. Bo Bi, Tsinghua University

10:50 – 11:10

Empirical Analysis of the Digital Divide from the Perspective of Internet Usage Patterns: A Case Study of Nanjing

Ms. Enyu Chang, Nan Jing University

11:15 – 11:35

Cluster Based Controlling System on Mobile Ad Hoc Network for Urban Transportation

Ms. Dinar Hana Sadriyantien Wahyuni, Universitas Merdeka Malang

11:40 – 12:00

Research on Smart Community Based on the Combination of Industrialization, Informationalization, New Urbanization and Agricultural Modernization

Ms. Juan Li, Tsinghua University

12:00 – 13:00

Lunch Break

13:00 – 13:20

Study of Performance Assessment for Urban Renewal Project in Taipei City

Mr. Jen-Hua Liu, National Chengchi University

13:25 – 13:45

Government, Market and Social Space Transition: A Case Study of Micro mechanism of Yu'er Hutong No. 29, Beijing

Mr. Yang Shi, Tsinghua University

13:50 – 14:10

A Review on the Residential Benefits of Urban Green Space in Auckland, New Zealand

Miss. Tracey Taylor, Kanazawa University

14:15 – 14:35

How to Innovate the Social Management Methods to be compatible with the Trend of the Smart City Development — A Case Study of Shanghai

Mr. Rongji Tan, Fu Dan University

14:35 – 15:00

Coffee Break

15:00 – 15:20

An Agent-Based Model for Simulating Locations of Ports: A Case Study of Some Provinces of Southern Vietnam

Nguyen Thi My Trinh, University of Science Ho Chi Minh City

15:25 – 15:45

Human-oriented Smart Travel Services and Its Applications in Urban Planning: A Case Study in Beijing Shangdi-Qinghe District

Ms. Xue Zhang, Peking University

15:50 – 16:10

Land Use Change Process and Preference of Street Vendors for Choosing a Trade Location: A Case Study at Pekanbaru City, Indonesia

Mr. Zaflis Zaim, Kanazawa University

16:10

Closing Speech: Prof. Zhenjiang Shen, Kanazawa University

– 16:30

Collecting the Review Forms


The afternoon is free from 16:30 to be used at your leisure

19:00 – 21:30

Workshop Dinner

Please meet by 18:45 for dinner.