2013 workshop on urban planning and management, Kanazawa (Feb.18-20, 2013)
Low Carbon City in Chinese Cities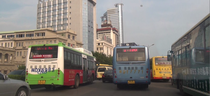 Standards and indicators are important for measuring carbon performance of a city. How to account for carbon emitted when activities and services are consumed in locations is a key issue in urban area. Furthermore, the investigation on relationship between carbon emitted in a city and its underlying drivers – population, economic structure, energy source, transport and built infrastructure, and urban services – is complicated. This complexity makes it especially hard to evaluate planning alternatives for low carbon city. Nevertheless a low-carbon city is a sustainable, efficient, livable, and developing indicators for evaluating a city's sustainable development objective are widely concerned in the world.
Program Commitee
Prof. ZJ SHEN, Kanazawa University
Prof. M. Kawakami, Kanazawa University 
Dr. Y. MA, Kanazawa University
Prof. Guangwei HUANG, Sophia University
Prof. Jiahua CHEN, Fudan University
Assoc. Prof. Kyungrock YE, Chiba University
Prof. Kenichi SUGIHARA, Gifu Keizai University 
Contact
Mr. Yunfeng LI, email: lyf.ksc@gmail.com
Technical Tour (Feb. 18)
Housing Park in Kanazawa
Future Library of UMI in Kanazawa
Maeda Temple  
Workshop Program (Feb.19)
Keynote Speeches
Gao Xiaolu, Ji Jue and Wang Fang
Spatial Pattern of Transportation Carbon Emission by Behavior Zones: Evidence from Beijing, China
Weihua ZENG
Analysis of CO2 emission based on transportation - A case study of Beijing 
Hui WANG
Integrating low-carbon concept in urban planning: the experiences and lessons in Xiamen, China
Yongling LI, Wangtu XU, Hui WANG and Yuan LI
Transit-oriented Development: Review, Recent Advance and the Practices in China
Yuan Li, Lang He, Wangtu Xu, Hui Wang and Zizhang He
The study on spatial variation in housing price of Xiamen city based on GIS and Hedonic 
Pai Jen-Te and Huang Yong-Han
The Travel Behavior Change of the Residents of Transit Jointed Development in Metro Area of Taipei
Kuanghui PENG
The Application of Vertical Greening to Urban Rehabilitation and Maintenance
CHIEN-YUAN LIN

Application of Vertical Greening for Landscape Beautification in Taipei
YEOU-FONG LI

A Study on the carbon footprint of FRP bridge
SHU-YING TSAI

The Evaluation of Applying Vertical Greening for Buildings in Taiwan

Student Forum
Yunfeng LI, Yan MA and Zhenjiang SHEN
coming soon...
Danming ZHANG, Zhenjiang SHEN and Anrong DANG
The potential and feasibility of solar power generation to meet the demand of household electricity consumption in Chinese cities
Yuliang YANG, Zhenjiang SHEN and Xin JIN
Ecological indusrtrial park in China: Policy, current issue and future 
Pindo TUTUKO
Green City Planning and Design Approach for Global Warming Anticipatory in Indonesia
Xuefei LI and Zhenjiang SHEN
Environment Design of Affordable Housing by the Green Buliding Standard —A Case study in Tianjin, China
Miaomiao HAN and Zhenjiang SHEN
Green design and buildabel space in Japan
Phuong Thanh and Zhenjiang SHEN
Review on design guideline for smart grid system in urban district in North American and European countries
Workshop Venue