International Symposium on Innovation in Urban Planning based on Big Data, Smart Cities and Sustainable Development, May 27-29, Nanjing
Recent years, the construction of smart city become one of the major national strategies in China and more than 300 cities are trying to promote the smart city.  The construction of smart city is an important approach to enhance the sustainable development, which is also benefit for inclusive growth. On the one hand, big data provides new technical supports for urban studies, collaboration planning and innovation of planning methods. Through the integration of big data and traditional data, we can simulate urban and regional spatial factors, so as to promote smart planning process and to realize humanized and sustainable urban development.  On the other hand, based on the requirements of sustainable development, we need to explore the construction path and model of smart cities, as well as the management techniques and experience.
      In order to continue the International Conference on Spatial Planning and Sustainable Development, we kindly invite you to participate in an international symposium on spatial planning and sustainable development at Nanjing University on May 27-29, 2017. The purpose of this symposium is to facilitate knowledge exchange and building among international scholars and between international scholars and Chinese scholars.  This symposium focuses on Innovation in Urban Planning based on Big Data, Smart City and Sustainable Development, and includes podium presentations and roundtable discussions on May 28-29. 
Main Theme
Theme: Innovation in Urban Planning based on Big Data, Smart City and Sustainable Development
• Urban Studies and Innovation in Urban Planning Methods Based on Big Data
• Simulation of Urban and Regional Space, Smarter Planning and Urban Design Methods
• The Construction Path, Model and Management Strategies of Smart City Towards Sustainable Development
• Inclusive Growth,  Sustainable Urban Development and Planning
Date and Place
1) Time schedule 
May 27, registration
May 28, invited reports and presentations 
May 29, roundtable discussions (in the morning), to leave the meeting (afternoon)
2) Meeting place
School of Architecture and urban planning, Nanjing University (Gulou campus) 
No.22, Hankou Road, Nanjing
Host Organizer
Nanjing University
Organizer
School of Architecture and Urban Planning, Nanjing University
Co-organizer
Kanazawa University
Organizing Committe
Feng Zhen     Nanjing University, China
Zhenjiang Shen    Kanazawa University, Japan
Zoh Kyung-Jin    Seoul National University, Korea
Min Zhang   Nanjing University, China
Deadline for abstract submission
1) E-mail address
xiguangliang@nju.edu.cn
2) Deadline for submitting abstract
The deadline for abstract submission is April 25, 2017.
Registering address 
The lobby of Jingli Hotel
No. 1, Beijing West Road, Gulou District, Nanjing
Contacting
Dr. Guangliang Xi    +86-18761894901       xiguangliang@nju.edu.cn
Dr. Xiao Qin             +86-15895843075       x.qin@nju.edu.cn
Ph.D. Yupei Jiang               +86-15150516529       jiangyupeidl@126.com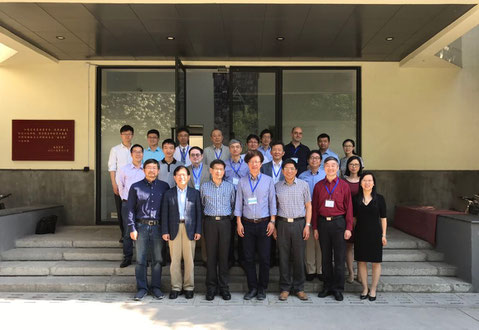 Opening Ceremony 大会开幕式

08:00-08:20  May 28, Room 105, Jianliang building, NJU

时间:5月28日上午 08:00-8:20        地点:南京大学

Chair: Feng Zhen            主持人:甄峰  教授

08:00-08:20

Feng Zhen

Zhenjiang Shen

Welcome Address

Session 1   Sustainable urban space I

08:20-10:00  May 28, Room 105, Jianliang building, NJU

Chair: Jen Te Pai            Discussant: Son Yonghoon

08:20-08:40

Zoh Kyung-Jin

Current Projects and Issues of Public Space in

Seoul

08:40-09:00

Kuang-Hui Peng

City Greenways in Taipei toward a Sustainable

City of Art

09:00-09:20

Guangwei Huang

Does road network increase urban vulnerability to flooding?

09:20-09:40

Min Zhang

Characteristics and Structure of Residents' Con

summing Space in Nanjing

09:40-10:00

OSARAGI Toshihiro

Predicting Spatiotemporal Distribution of

Transient Occupants in Urban Areas and Its

Application to Disaster Mitigation Planning

Session 2   Smart city and Sustainable development

10:20-12:00  May 28, Room 105, Jianliang building, NJU

Chair: Anrong Dang         Discussant: Honjo Tsuyoshi

10:20-10:40

Suzana Dragicevic

 

10:40-11:00

Yanwei Chai

Study on the smart city Standards

11:00-11:20

Ando Ryosuke

From ADAS to Autonomous Vehicles-A

discussion based on surveys in Japan

11:20-11:40

Jen Te Pai

The recent development of sharing economy in

 Taiwan

11:40-12:00

Zhenjiang Shen

Household behavior of house energy

consumption using agent-based model

Session 3   Big data and urban planning

14:00-15:20  May 28, Room 105, Jianliang building, NJU

Chair: Kuang-Hui Peng         Discussant: Ando Ryosuke

14:00-14:20

De Wang

Commuting Space in Typical Residential

Areas of Shanghai: Based on Mobile Phone

Signaling Data

14:20-14:40

Xiao Qin

Combination of big and small data: An empiric

al study on distribution and factors of catering

 space popularity in Nanjing, China

14:40-15:00

Honjo Tsuyoshi

Application of structure-from-motion thermal

imaging

15:00-15:20

Bo Wang

The role of distance in the Internet Age:

evidence from cities in the Internet news

media and the Internet search in China

Session 4   Sustainable urban space II

15:40-17:20  May 28, Room 105, Jianliang building, NJU

Chair: Min Zhang           Discussant: Osaragi Toshihiro

15:40-16:00

Kai Wang

 

16:00-16:20

Son Yonghoon

Rurban landscapes in Korea from a

perspective of a daily life

16:20-16:40

Lizhen Shen

The Regional Space of Flows of the city

 network in the Yangtze River Delta, China

16:40-17:00

Guangliang Xi

The interaction between e-shopping and store

shopping: empirical evidence from Nanjing,

China

17:00-17:20

Harry den Hartog

 

 

Discussion 1:Big data, activity and urban space

09:00-10:10  May 29, Room 105, Jianliang building, NJU

Chair: De Wang

Discussion 2:Smart cities and sustainable development

10:30-11:40  May 29, Room 105, Jianliang building, NJU

Chair: Yanwei Chai

11:40-12:00

Zhenjiang Shen, Closing remark